Surprised with a snowman on stones
Winter came, the cold suddenly surprised us all and today we also want to surprise you. In this case we do it with a fantastic snowman that announces the white Christmas.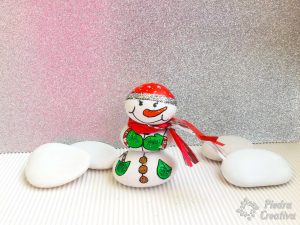 In this time in which you want to be more at home, and with holidays ahead of the kids, we propose a simple and fun to decorate your home.With it, you can also entertain the little ones during these winter days.
What do you think, you encourage to do with the kids?
Before starting, we suggest you take a look at the Top 10 tips for painting stones with children, in them you will find very important details to consider.
Materials
To make this snowman, we're going to need …
3 stones
Acrylic paint white, red, orange, silver, bronze and green
Brushes
Pencil and rubber
Black thin
A tie or piece of cloth
Brilliantine red, green and silver
White glue or glue
Hot silicone gun
Spray varnish
Step by Step
To start doing any craft remember to cover the area where you go to work protecting with paper or newspapers to avoid staining the surface. Put clothes that you do not mind getting dirty and have fun. Are you ready?
Choose 3 stones to push on top of each other.
Although later we are going to stick them with hot silicone, it is better that you see how they can be on top of each other before, so you get an idea.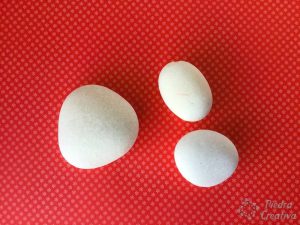 Wash the stones
Use a brush with soap and water and wash them thoroughly so that the paint will grip better.
Pint of white
Draw with pencil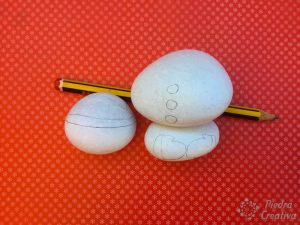 Make the drawing of the gloves, the hat, the face, the buttons and the details that you want. Try not to mark too much with the pencil in case you have to erase. Do it softly.
Paint with acrylic paints
Give it color with acrylic paints, see what is drawn and to make the colors shine, apply two hands, (Then we also added some pockets on the sides because we thought something was missing).
Profile with black marker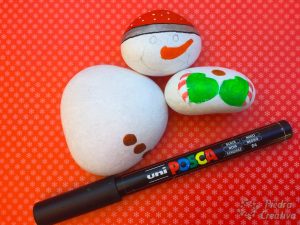 When profiling the entire drawing better you see the details.
A touch of brightness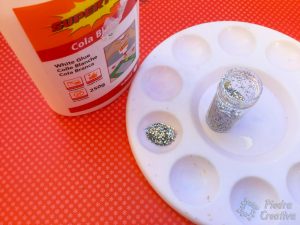 This time we have prepared our own glitter with white glue to stick it on the snowman, although we verified that the mixture was better made with glue or transparent glue.
To apply it we use a stick.This operation can be done with all the glitter colors. You must wait a day for the mixture once applied to dry well.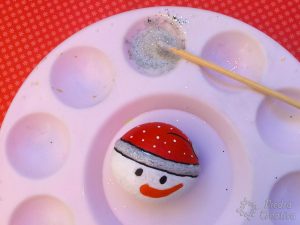 Stick with hot glue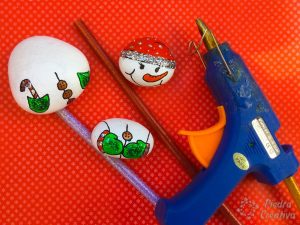 Once the glue of the glitter has dried, the ideal for this craft is to use hot glue to join the pieces. A trick to not see the glue that is left over is to paint it white or the color of the craft.
Apply varnish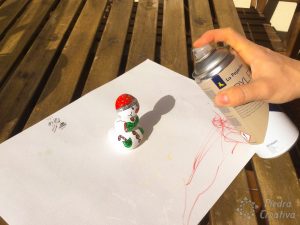 Like all the stone crafts we make, the most important thing for our work to last and be better is to put 2 coats of varnish. If you want you can see in the tips section some types of varnishthat there is in the market and that we have tried. In this way you can know which are the most suitable for each occasion.
Cover him with scarf
Cut out a piece of ribbon or paper (as in this case we e done) and give some cuts at the ends. Next, tie it around the snowman's neck (once the varnish has dried well).
We also tried with cloth that we had out there and it was very cool, do not you think?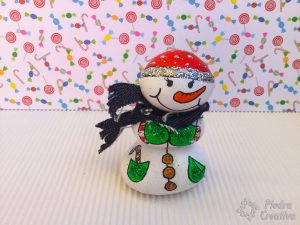 That's all, we already have a 3D snowman! What do you think?
We hope that you will be encouraged to make this snowman without going cold.
If you have any question or suggestion do not hesitate to leave it in comments, thank you very much for participating in this blog.
Kisses and enjoy creating with PiedraCreativa
[Total:

4

Promedio (Average):

5

]