Cat Alice in rock painting
Which is the right way?
This craft of Alice's cat reminds me that to know the way to walk, you must know the destination. And you, Do you know what is your way?
I show you how to make this DIY fast and easy.
Materials
The materials you need are:
Stone


Pencil and rubber

Special stone markers

Toothpick

Pink acrylic Paint


Acrylic varnish
Step by step to paint Alice's Cat in Wonderland
Before you start painting you should do the following. The first thing is to protect the surface where you go to make this craft with paper or plastic. Although the paint on the markers is very clean, remember that later, to finish, you will use the pink acrylic paint to make the points.
Now, you're ready to go!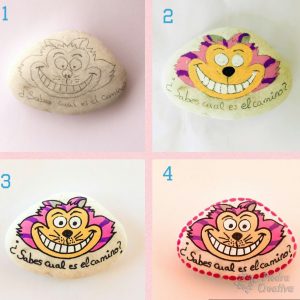 1. Wash the stone and draw with a pencil
Wash the stone so that the paint picks up better.
Use a soft pencil to draw the cat and the phrase.
2. Paint with markers
Color with special pink, purple and gray markers.
3. Profiling with black paint
Profiles the entire outline with a thin black marker pen.
4. Pointillism and apply varnish
Draw dots around the drawing with a stick or punch.
To protect your stone crafts apply a couple of layers of varnish.
Ready! You already have your Alice cat painted in finished Stone.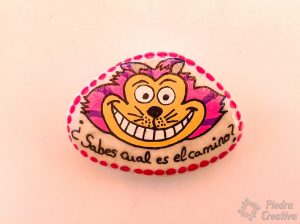 We hope you have enjoyed this simple and fast craft. Paint and look for your best way.
I leave this link for you if you want to know more about how to paint stones.
Thank you very much for continuing to nourish this blog with your comments and questions,
A huge kissing pebbles and …
Enjoy with PiedraCreativa
[Total:

2

Promedio (Average):

5

]