Planting monsters… Spookie!
Monsters grow! some monsters in stone have been planted in a pot and perhaps multiply! Hope they do not grow too much here on Halloween. Oooh! I'm scared!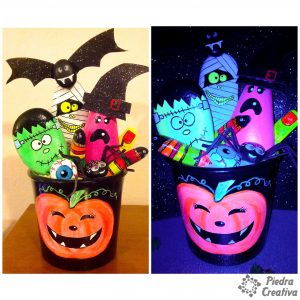 Well, now I'm going to explain how to make our monsters …
Materials
Here's what you need to do this craft:
Stones
A pot with soil or sand
Pencil and rubber
Brushes
Acrylic, fluorescent, color phosphorescent paints. (Below we link to make your own black light)
Water container
Paper napkins
Black and green marker pen
Black eva gum with brillantine
Scissors
Hot silicone or double sided tape
Acrylic varnish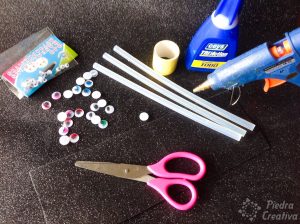 Are you ready? (Remember to cover the table and put on old clothes)
Let's go step by step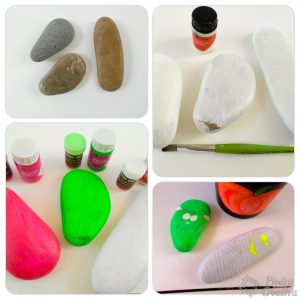 Wash and dry the stones before painting.
Paint with white acrylic paint, this way you will make the color more lively.
Use bright green acrylic paints, white and pink, apply a couple of paint hands and let dry very well between each layer. On this occasion these paintings are fluorescent.
Once the paint is dry, draw the sketch of the monsters on each stone with a soft pencil (to easily erase it if you make a mistake). Also paint the sketch in the pot before painting.
Paint the eyes white or yellow for mummy and Frankenstein and black for ghost.
Profile the eyes and all details with the black marker pen.
Give a pair of acrylic varnish layers. We use the gloss spray varnish.
Paint the pot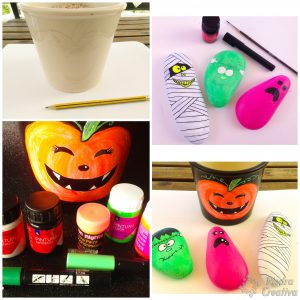 Paint around the picture with black paint, and fill with orange the part of the pumpkin. Make the green of the top of the pumpkin. To do this, use a pair of markers of different shades of green. If you have a good pulse, you can also do it with a brush. Remember to give the finishing touch with green fluorescent paint.
Bats and spiders
After we made the monsters we want to continue, then we made a spider and a bat in stone with gum eva.
Cut the eva gum for the wings and legs and glue them to the stones with hot silicone. To do it with the kids, you can use better double-sided adhesive tape (once the varnish is dry).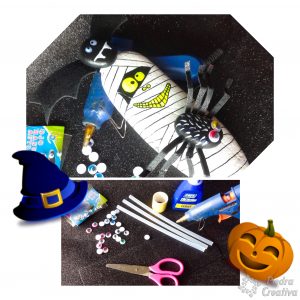 Ready! In a "plis plas" we have marked all terrifying craftsmanship.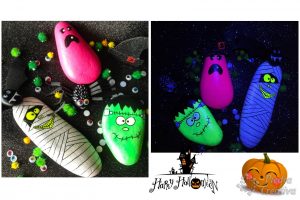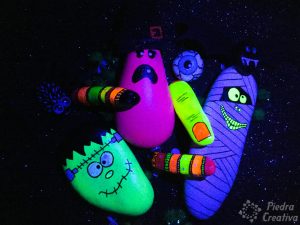 We have also added, the worms the eye and the finger of the previous manuality we made.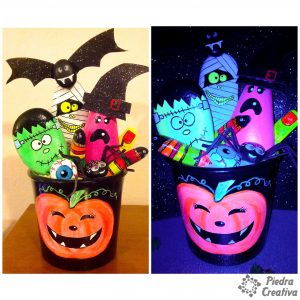 EXTRA: How to Make a Home Black Light
Do you want to give a more terrifying look to these Halloween monsters in stones? Soon we'll leave the link here so you can see how you can make your own homemade black light. If you want to see other ideas, you can go through the children's craft section, there you will find fun crafts.
This is all for now, we hope you like our proposal to decorate your house and put some fun and color wherever you want.
Happy Halloween, have fun a lot with PiedraCreativa! 😉
[Total:

2

Promedio (Average):

5

]