Transfer pictures to stones
In another article we use this product to make a transfer of images to wood. On this occasion we have transferred images to stone (which in this case are phrases but could be photos, drawings, etc.).
Do you want to try? 🙂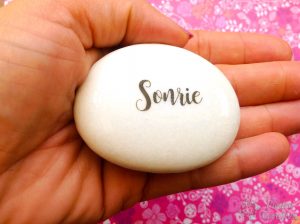 The materials you need

:
Stones

Acrylic paints (optional)

Brushes

A photocopy of the drawing or word to be transferred

Product to transfer photo

Water container

Varnish
This is the DIY step by step how to transfer images to stones.
These are the steps:
Choose the stones
If you choose very smooth stones you get a DIY with a good result.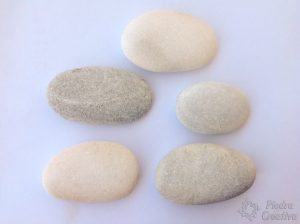 Wash the stones
Do not forget to wash the stones well with a brush to remove all the dirt, thus you will get the DIY better and then there are no problems with the paint;)
Paint with acrylic paints (optional)
If you choose this option should be a good quality paint as the product of photo transfer will be placed on top and if it does not cover well will lift the paint when you remove the paper with water. Give 2 or 3 layers of paint and let dry very well.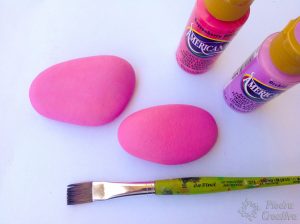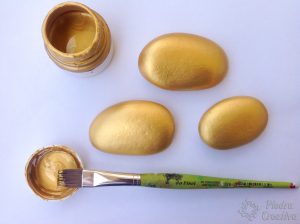 Crop phrase to print it
Choose the phrase or word that you want to transfer to the stone and photocopy it on paper, keep in mind that the ink must be printed with laser or toner. In this web you can find nice fonts (http://www.dafont.com) so you can create your own phrases, or if you prefer you can use our Phrase Template. Cut out the phrase you have printed upside down so that you put it on top of the stone in the right direction. Keep in mind that if you make your own sentences you must turn them around to make it right when doing the Photo Transfer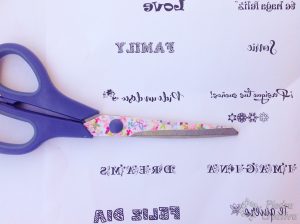 How to apply the Photo Transfer product on painted stones
Once the paint is dry, apply the photo transfer product on the paper (only in the part that has the ink) and quickly do it also in the stone, do not use too much product because if you do, then it will be noticed in the stone. Put the product right in the area where you will place the photocopy. I recommend from experience that NOT apply photo transfer once you have already glued the paper to the stone, if you did, it would cost you more work to remove the paper.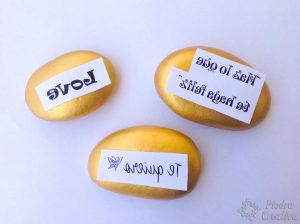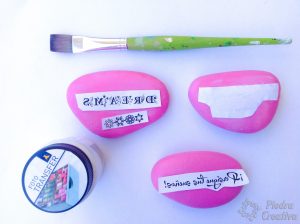 Wait 24 hours for the product to dry
To ensure a good DIY you wait 24 hours to remove the paper.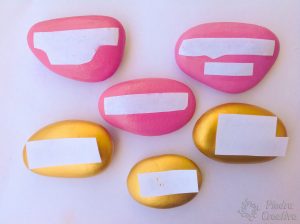 Remove paper with water
Carefully remove the paper, rub it gently with your finger and dry it when you soak it with a cloth.
Acrylic varnish
Finish your manual transfer of images to stone by applying 2 or 3 layers of acrylic varnish, in addition to protecting the stone will help to have a better finish.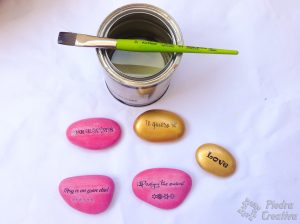 All you need to do is give your personal and original details.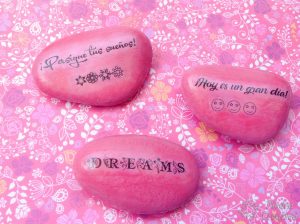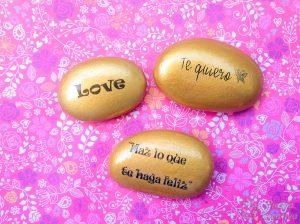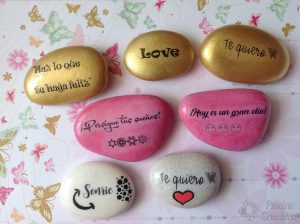 We hope you liked it. Which one do you like best?
A huge kiss and enjoy painting with PiedraCreativa.
[Total:

3

Promedio (Average):

5

]