Be happy with this mandala
This mandala in painted stone is inspired by the summer holidays. After waiting for a year to enjoy the warmth, the beach, the swimming pool and those moments of relaxation, we have been encouraged to welcome you with the joy mandala.
How to paint the mandala of joy?
First you need the first ingredient, the joy;) One that you have can follow this step by step to do it.
The materials you need are:
Stone

Brushes

Pencil and rubber

A cover or compass

Sticks or punches


Acrylic paints, black, white, pink, blue, purple and green.

Varnish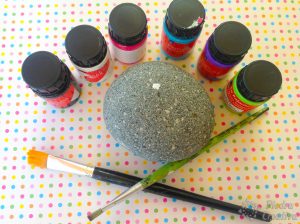 Step by Step Joy Mandala
Details to consider before starting this manual:
Wash the stone
Make sure the stone is cleaned and dried before you begin to paint it. If it's the first time you do this type of crafts, you can see the tips of how to paint stones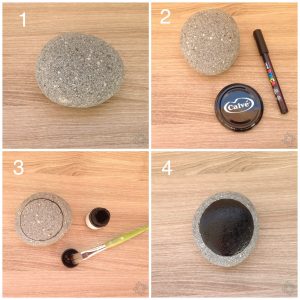 Draw a circle
Paint a circle with the cover or compass so you have a guide to follow.
Paint with black paint
Paint the circle with black acrylic paint and wait for it to dry to give the second coat of paint.
Begin
the center
To continue, find the center where you will paint the first center point. You can do it with the compass, it will be easier for you.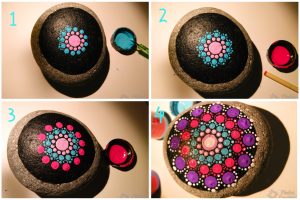 Paint the mandala
Once you have made the center point, continue with a smaller punch. Start by paint a cross as in the video about the ring mandala, seeing it for sure will be very simple.
Use the white color
Use white acrylic paint to brighten and blend colors. Then put a little paint on the circles over the larger points, as in the photograph.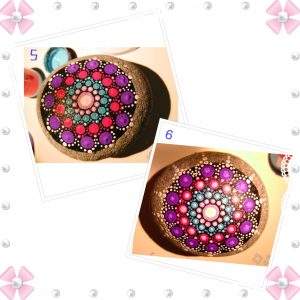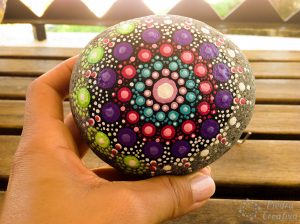 Apply varnish
Remember to apply a couple of layers of acrylic varnish to the final result to protect your mandala and that will last in time.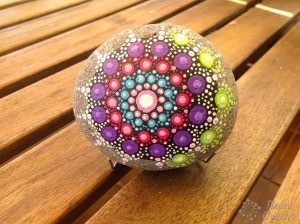 And this is the final result. Do you like? 😉
We leave you some Pinterest' examples that you can see so that your own ideas. And remember the meaning of Mandalas.
We hope you have been inspired a bit joy. Make your own mandala and ¡Welcome to the summer!
If you have doubts or suggestions you can leave them in the comments section, we will be happy to respond as soon as possible. Many thanks! A sweet kiss and …
Enjoy painting with PiedraCreativa
[Total:

2

Promedio (Average):

5

]