How to paint fish on stone?
Some people say is good have fishes at home. Fishes brings good luck. As I like to attract it both for me and for others, I'm going to show how to create these fun DIY for all os us can have good luck.
Materials for the DIY
3 stones
Pencil and rubber
Acrylic paintings
Brushes
Markers
Awl
Varnish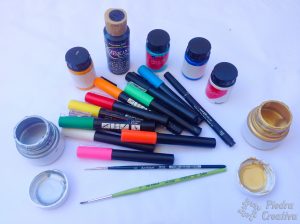 Step by step
Here are the points to keep in mind:
Wash the stones
Wash the stones very well with a brush to remove any dirt and so the paint will look great.
Paint the stones with white paint
Paint the stones with a couple of coats of white acrylic paint to give it more brightness, at the end your DIY will be better.
Remember to let dry between each coat of paint.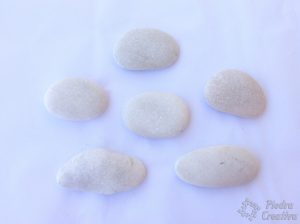 Draw with pencil
Draw softly with a pencil of soft mine the fish on the stones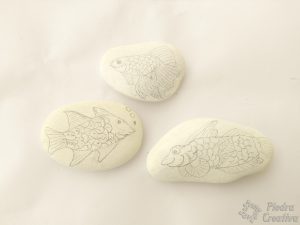 Paint with paints or markers
Choose the colors that you like more to paint your own fish or guide you through ours, you can also look at some images of Pinterest. We have mixed markers and acrylic paint.
First you can start by painting the bottom of the fish with the colors you want.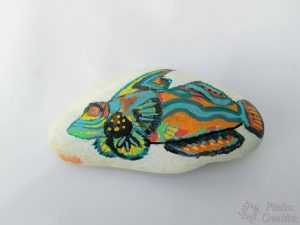 Outlines with black pen
Once the fish has been painted with the paint, we can use a permanent black marker pen (the number 0.6 goes very well), or a special marker for Stone.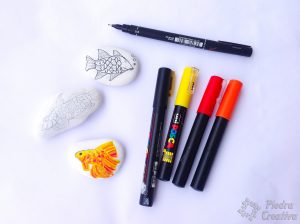 Details with the awl (

Pointillism

)
To do pointillism you need a little patience, but the result is precious. Use punches of different sizes to start, try and experiment with chopsticks, with the back of a brush or with the pencil erarser. You will like it!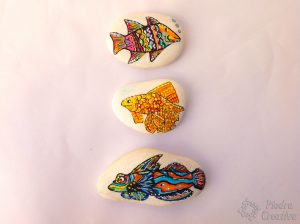 Paint a good background
We have painted the background by mixing a turquoise blue with a silver color, thus imitating a marine bottom and giving a more lively color to the fish.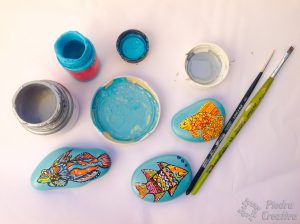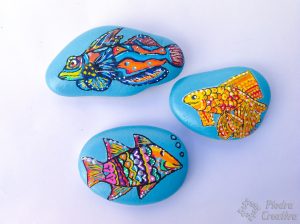 Protecting DIY with varnish
Protect your work of art with acrylic varnish at the end. This way you'll get brightness on your diy and it will last longer. Also, if you decide to put them in water, it is best to give them two or three layers of varnish so that the paint does not spoil.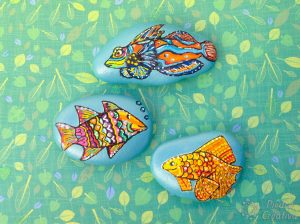 And with this original DIY we wish you lots of luck!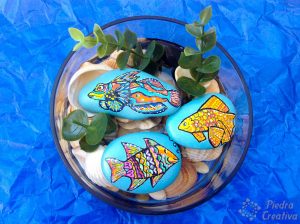 If you liked it not hesitate to access the category of animals, there you will see other interesting examples .
Enjoy painting with PiedraCreativa
[Total:

2

Promedio (Average):

5

]