Pointillism in hearts
I love this technique with points in heart, it amuses me and it relaxes me a lot. Besides that I like it a lot, it's a therapy for me. It helps me to disconnect and concentrate on what I am doing without thinking about something else and give free rein to my creativity.
Colored hearts
Putting points in the heart can be a precious gift, as each of us has its own values. Giving a value to each color of the points is a good way to express our feelings towards our loved ones and in a very original way, do not you think?
How to make these hearts?
A good way to make these hearts is to use a template and draw it on the stone with a pencil.
Then, paint the background red with acrylic paint applying two layers. Once the paint is dry, make dots in a row of the same color and continue until it ends in different colors.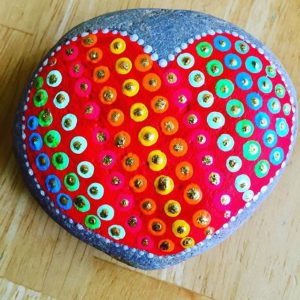 Protect with varnish
These pieces, like all the ones that I show, are protected with a special varnish that serves to expose them both inside and outside the house.
Would you like to obtain them?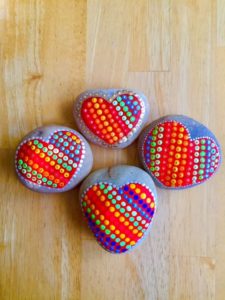 If you want these pieces or any of the ones I show on my profile, you can contact me moryc@verizon.net or through my Etsy store.
I hope you liked it, soon I will show you more My Art Rock
Hugs and see you soon.
[Total:

3

Promedio (Average):

5

]