¿How to make a paper napkin holder in rock painting?
This paper napkin came suddenly to us, like almost all good ideas. If we eat on the terrace, sometimes it is windy and paper napkins fly. Once we placed a stone on top of the napkins and thought it was a good idea. Because of this, we have made the home napkin holder to hold the napkins. 🙂
Materials
To make this DIY we have used the following materials:
1 round Stone

Acrylic paints, brown, yellow, red, green, white, orange, purple

Pencil and rubber

Brushes

Markers, green, red, yellow, white, purple


Varnish
Step by step to make the home napkin holder
Before beginning to paint this type of crafts, it protects well the surface. Put on old clothes that you do not mind smearing and that's it. Now you can start!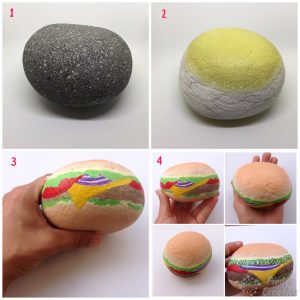 1. Wash the stone
Like all surfaces before painting it, you have to clean it well for the paint.
2. Paint a light color and draw with pencil
Start painting the top with a light tone looking for the color of the bread, and paint the center white.
Then, draws a picture of the hamburger with a soft pencil, delimiting all foods. Try to make food drawings in curved shapes, to make them more realistic.
3. Paint with acrylic paints
Paint each food of the color you choose as in the step by step.
4. Profiling with markers
Use markers to outline the color of the corresponding food.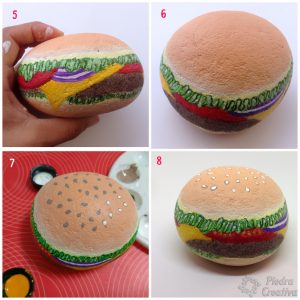 5. How to paint the lettuce from this hamburger napkin on painted stone
This is more difficult, but the most beautiful. We first painted it a light green. Once dry, with a fine brush, we have made waves using a darker green shade. To simulate the curly lettuce we have used several shades of green (if the brush is complicated, you can use the markers).
6. How to give shine
Add white paint to brighten areas of lettuce.
7. Bread Details
Mix brown and white paint and start painting the seeds on top of the brown stone. When it has dried, apply white paint over the brown color.
8. Protect with varnish
Apply two layers of varnish to protect this original hamburger napkin in painted stone.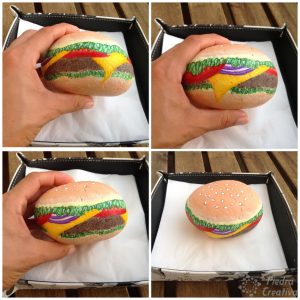 This special napkin holder is ready to hold your napkins!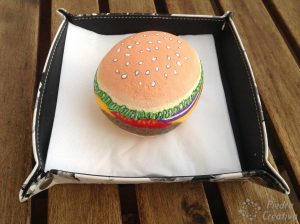 We hope you liked it and that you are encouraged to make this DIY so original!
To inspire you can go in pinterest and see more ideas of food painted in stones. They look great!
We show you the "Foods" category with this fun DIY chocolate cookies with which children have a great time. Or you can try painting nail polish stones.
A huge kiss and enjoy painting with PiedraCreativa
[Total:

2

Promedio (Average):

5

]