Don't forget and don't lose your best friends (stone cairns)
In PiedraCreativa we show you what are stone cairns.
The stone cairns are elaborate signs that guide walkers to follow a recommended route. Usually they are stacked stones, one on top of another, which are situated in the best part of the way, like a good group of friends.
Sometimes obstacles are encountered in our lives, these obstacles take us away from the best way and separate us from our best friends.
At this moment in which we are lost appear great friends (our stone cairns). They remind us, help us and guide us to continue on the best path with them.
We have created these significant DIY in PiedraCreativa to thank those great friends who help us and share their way.
Good friends are like stars you don't always see them but you know they are there.
How to make the stone cairns?
These are the materials we have used to do this manual work:
Flat and round stones of different sizes
Two pieces of pine Wood
Sandpaper
Varnish
Black paing
Brush
Cement glue
Water and mixing bowl
Stick to mix the cement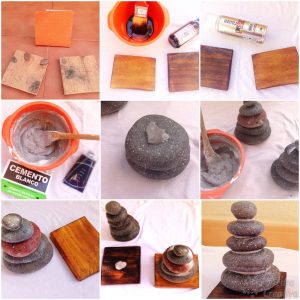 Steps for DIY stone cairns
Choose the stones
Choose the stones you are going to use and stack them on top of each other to see what they look like, remember to wash them.
Use the sandpaper with the woods
Then sand the woods and apply a bit of black paint.
Varnish
Wait for it to dry and put some varnish to protect the wood.
Paste the stones
Prepare a small amount of cement in a bowl and add a little water until you see that it is a consistent paste.
When you see that everything is ready, stick with the cement stone on stone.
We liked unpainted stones, they are more natural but you can put varnish to give a little shine if you like it.
Your stones cairns are already!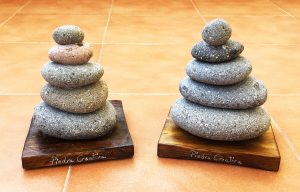 Do you like nature? You have more representative DIY in the section "Nature". With these tutorials you can learn how to créate cactus with stones, how to paint flowers, etc.
Enjoy with PiedraCreativa
[Total:

3

Promedio (Average):

5

]